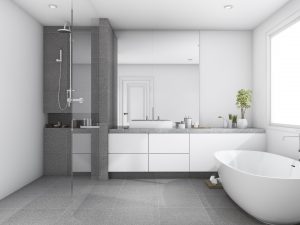 Bathroom Renovations
Household renovations and remodels are commonplace nowadays, whether you are a new homeowner or have been living in your house for years. Our home improvement experts at Maderaworx have seen it all and have experience in all facets of renovation. From interiors to exteriors and small projects to large, you can count on our professionals to complete any and all projects you have in mind in the most affordable and stunning way possible. We've been in the renovation and remodel business for awhile now, and some of the most rewarding and popular projects we take on are bathroom improvements and renovations. Your bathroom is one of the most highly used and trafficked rooms in your home and, as such, needs a lot of care and upkeep to stay functional and modern.
Bathroom renovations can be as big or as little as you want and, no matter what, you can trust that the experts at Maderaworx will always put their full heart and soul into their work. Easy bathroom improvements such as repainting a vanity or replacing a countertop are quick renovations that can also add a lot to your situation. Whether you are preparing to sell your home or just want a fresh new look, something as simple as a new color or countertop will really make things fresh.
Of course, a bathroom renovation can be as major as you want it to be. If you need to replace everything because things are broken or outdated or you just want to update and renovate to stay ahead of the times, Maderworx is full of experts that can handle everything from aesthetics to plumbing and installation and everything in between. Replacing showers, toilets, sinks, and vanities is a major undertaking, but our team will work diligently to ensure you can continue living a life uninterrupted. Further, our team will meet with you, likely multiple times, before starting a project to better understand your desires, provide an honest quote to avoid any unforeseen surprises, and figure out the best plan of attack to complete your bathroom renovation as efficiently and effectively as possible.
There are countless things you can replace or renovate in your bathroom and even more ways to go about doing so. Whether you want to tackle a complete bathroom renovation at once or chip away at smaller projects, Maderaworx is here for you. Our team of experts is the best in the business and guarantee to leave you with a brand new bathroom that will improve the overall functionality, beauty, and value of your home. Give us a call today and let us help you make the most of your planned bathroom improvements.
Check out our different Bathroom Renovation Services: