Bedroom Renovations
No room in your house is any less or more important than another. Each serves its own distinct purpose and, without it, your home wouldn't be complete. Kitchens and bathrooms speak for themselves, living rooms provide a common place to gather, and bedrooms are the epicenter of relaxation and privacy. Whether you have had your home for awhile or are a new homeowner, renovations and remodels are an important process to keep your living space current and comfortable. Our experts at Maderaworx have helped countless homeowners remodel and renovate their homes, from intricate projects to large overhauls. No matter the scope of a renovation, you can rest easy knowing that our professionals will always provide the most affordable, timely, and beautiful remodel possible. As you plan your upcoming bedroom improvements, look no further than Maderaworx to help you out from the inception of your idea to project completion.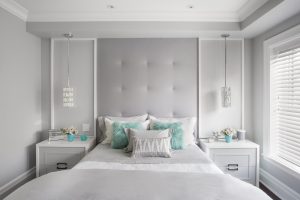 As you begin to plan your bedroom remodel, consider what atmosphere you are trying to create. Most people want their bedroom renovations to reflect a soothing energy so relaxation comes naturally. There are a few key ways to do so. Painting your bedroom will instantly change its feel and the color or color scheme you choose will create the underlying atmosphere. As with any other room in your home, lighting also plays a major role. Layering your lighting is often a good approach, where ambient lighting provides the majority of the room's illumination and accent lighting adds additional flare. Dimmer switches and lampshades are popular choices for bedroom lighting as they can cut the harshness of overhead lights. Finally, if you will be purchasing new bedroom furniture, be sure to find beds and dressers that compliment the overall feel of your room and don't envelop the entire space because of their size. You have countless options to choose from, and our interior design experts will be eager to help you find the right fit.
There are countless ways to tackle your bedroom renovations. Whether you want to knock out your bedroom improvements as one big project or chip away a little bit at a time, Maderaworx is here to help. We understand the potential inconvenience of any home improvement project and will always err to you as far as scheduling and timing goes so as to minimally interrupt your day-to-day life. As you begin to explore bedroom renovation options, give us a call. Of course each home, homeowner, and bedroom is different, but we have seen it all. From glamorous master bedroom makeovers to fun nurseries and children's rooms, our experts at Maderaworx are always eager to assist turning your bedroom renovation dreams into realities.