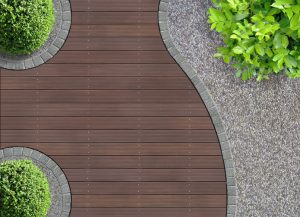 PATHWAYS
Stamped Concrete:
Stamped concrete pathways come in different colours, shapes and sizes. Benefits of stamped concrete is its longevity and is easy to maintain. tine maintenance usually involves sweeping the surface, cleaning it with a special concrete cleaner and applying a new coat of sealant every few years or more often. Many people find that adding a stamped concrete area to a home or lawn can also increase the total value of a home. A disadvantage of stamped concrete is that it will likely crack and fade over time.
Paving Stones:
Paving stones are non-skid, non-slip and guaranteed to endure a lifetime of use and exposure to the elements without cracking or crumbling – making them ideal for a driveway resurface, patios, walkways and pool decks.Paving stones are all consistent in size, allowing for perfectly straight lines and flatness of paved surfaces. This makes it easier to plow or shovel snow off the surface in the winter. With the use of different shapes and colors, we can also achieve impressive designs.
Pavers are colored with a variety of imported oxides, which reduce fading and keep the surface as good as new for many years to come. Pavers are sand jointed and therefore totally flexible, completely eliminating the possibility of joints cracking.
Flagstone:
A flagstone walkway can really enhance any outdoor space or garden. Flagstone is also a good choice for walkways because of its nonslip textured surface. It is important though that the flagstones are installed evenly to avoid trip/fall accidents from uneven stones. Flagstones are a good size for walkways providing easy stepping stones, and when dry laid flagstones create a permeable walking surface that absorbs water. Flagstone walkways are natural looking, provide a non-slip walking surface, have a permeable surface, and they are durable. They can also have ground cover grown in between stone and come in a variety of colours.