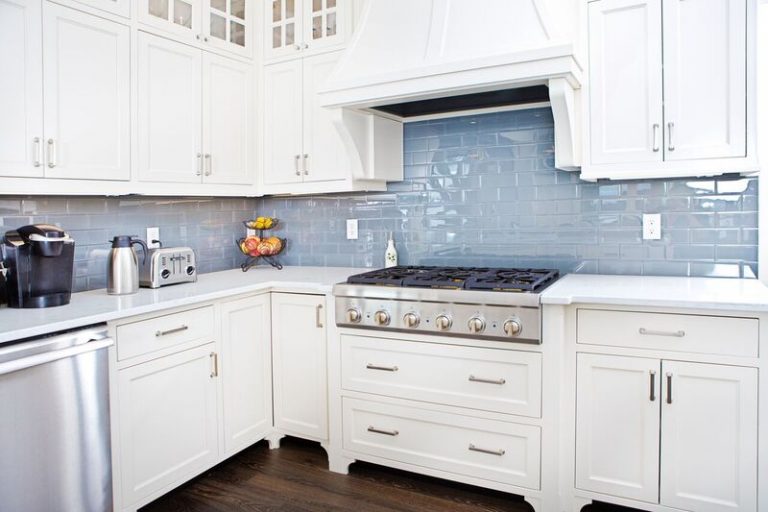 Posted On: Jun 08, 2018
Kitchen:
Remodelling your kitchen versus renovating can significantly reduce the costs while achieving a result you will like.  In remodelling you may choose to resurface your cabinets, replace the countertops and add a backsplash and replace your appliances. In doing this, it can possibly afford you the opportunity to upgrade other areas of your home. In a full kitchen renovation, you can consider changing the design and layout of your kitchen. This gives you the opportunity to possibly create more cabinet and/or counter space.
Cabinets:
Most clients choose a lighter colour for their kitchen cabinets either choosing white, antique white or gray cabinets. Options for cabinets can include lacquered wood or laminate finish, glass or shaker style. Having dark gray coloured or black cabinets also creates a very modern and sophisticated look. However, you will have to carefully consider whether this style of a kitchen will work for your home and whether you want your kitchen to match the style of the rest of your home or stand out as its own unique space.
Backsplash:
Depending on what style of kitchen you are choosing, it is essential that you choose a backsplash that matches that style. For a modern or contemporary look a larger tile with clean straight lines and minimal pattern will be a better option.
Countertops:
There are several options for countertops including quartz, granite, corian, arborite and butcher block. Countertops range in price and can end up adding a significant cost to your kitchen and/or bathroom.
Marble
Pros: Comes in a variety of colors and patterns, smooth surface, won't chip or dent, heat-resistant.
Cons: Expensive, can be scratched or etched by acids (citrus, coffee, alcohol, some cleaning products) even if you seal it. But if you are vigilant about spills and seal your counters a few times a year (you can do this yourself with a simple spray product) marble is a good option.
Granite
Pros: More durable than marble, won't scratch, resistant to stains, heat and water if sealed, low-maintenance, high resale value, lots of color options.
Cons: Expensive, requires resealing about once a year.
Engineered Stones (Silestone, etc.)
Pros: Nonporous, resists scratches and stains, easy to maintain, no sealant required. Looks like natural stone (it's at least 90% quartz) but can be mixed with pigments for custom color.
Cons: Not heatproof.
Brands: CaesarStone, Silestone, Cambria, etc.
Solid Surface (Corian, etc.)
Pros: Durable, smooth surface, can seamlessly integrate sink and backsplash, easy to sand away stains or scratches, lots of color and pattern options, can imitate other materials like concrete and marble.
Cons: Can be easily damaged by heat, easy to scratch and dent, can get stains. $45-150/foot.
Brands: DuPont Corian, Samsung Staron, LG Hi-Macs, ECO, etc.
Stainless Steel
Pros: Durable, stainproof, spillproof, temperature-proof, easy to clean and maintain, help reflect light.
Cons: Can nick and scratch, can show fingerprints, noisy.
Wood/Butcher Block
Pros: Good for chopping/prep surface, gentle on delicate glassware/china.
Cons: Easily damaged by burns, dents, spills and scratches, requires food-safe protective sealer, needs regular maintenance, will discolor if installed around the sink.
Ceramic Tile
Pros: Durable, easy to install and clean, heat and moisture-resistant.
Cons: Uneven surface, tiles can get scratched, cracked or chipped, grout can stain.
Lava Stone:
Pros: Beautiful crackled finish, many color options, non-porous, highly resistant to heat, cold, stains and scratching, highly durable, low-maintenance.
Cons: Expensive, and there's a waiting list.
Concrete:
Pros: Heat- and scratch-resistant, smooth, very strong, lots of texture and color options, pretty durable, can seamlessly integrate sink and backsplash.
Cons: Can get cracked, somewhat porous, must be sealed and waxed, needs to be custom cast (can be pricey to fabricate).
Soapstone:
Pros: Fabulous natural grey color, smooth matte feel, resistant to etching from acids, somewhat resistant to stains, scratches can be easily sanded or oiled away, not as harmful to the environment as other quarried stones.
Cons: Needs regular maintenance, may crack, chip and scratch, color may darken.
Glass
Pros: Lots of color, shape and texture options, non-porous, heat-resistant.
Cons: Can crack, chip or break, can't be repaired, must be replaced, scratches and fingerprints are visible.
Laminates
Pros: Stain-resistant, waterproof, lots of color options, low-maintenance, inexpensive.
Cons: Can crack and scratch, not heatproof, difficult to repair. Brands: Formica, Wilsonart, Pionite, etc.
Paper-based Composite
Pros: Green (made from recycled paper), very durable, harder than wood, somewhat stain- and heat-resistant.
Cons: Can scratch and stain, not totally heatproof, darkens over time, requires sealant, not a huge range of colors. Brand: Richlite, PaperStone, Shetkastone.
Bamboo & Paper Composite
Pros: Green, highly durable, won't discolor over time, scratch- and stain-proof, water-resistant, more light colors than Paper (above).
Cons: Only 10 colors available, requires (infrequent) regular maintenance. Brand: EcoTop.
Lighting:
To modernize your kitchen you can add or change the lighting in your kitchen. Pot Lights are popular and add a lot of light. Putting lights on dimmers is highly recommended. Under cabinet and/or above cabinet lighting gives your kitchen a beautiful ambiance.
Appliances:
Once you have upgraded your kitchen you will definitely want to consider upgrading your appliances unless they are relatively new. We can assist you in selecting appliances that will work well in your kitchen. Often people choose appliances that won't properly fit in their kitchen which can be very disappointing and frustrating. We can certainly assist you in this process which can be a cost and time saver.
Bathroom:
Your bathroom renovation can be as small as repainting a vanity and replacing a countertop to doing a complete renovation that may include changing the layout of your bathroom. This can include removing or adding walls and moving your shower and vanity to a new location. When choosing your shower base, toilet and sink, you want to ensure that the colours are the same. Not all whites are the same. Some of them tend to be more beige.
Showers can consist of a shower insert or you can have a fully tiled shower. Some showers have a glass door or others have glass sliding doors and in some cases just a partial glass wall with no door. Rain showers and/or wall showers are options. Some clients wish to add seating in their shower or built in shelving.
Not all toilets are the same. Some toilets have a rounded seat while others have an elongated seat. In addition to this, there are differences in the height of toilet seats. Some toilets have a dual flush system and others have just a single flush. Depending on your plumbing you may be limited in what options you have for purchasing a new toilet.
Flooring:
Marble, slate, granite or ceramic tile, vinyl, hardwood flooring such as engineered hardwood, scraped hardwood, laminate flooring, polished concrete flooring and carpet are all the various options you can have for flooring.
Benefits of a polished concrete floor is less dust, a harder surface, design and sustainability.  A polished concrete floor provides for a very modern design.
The benefits of hardwood flooring is it has no fibers, grout lines, or embossing that can trap dust, pollen, particles, animal dander, and allergens that occur with carpets. They are the best choice of flooring with allergy sufferers and contribute to healthier indoor air quality.
One of the biggest benefits in vinyl flooring is the cost. It's easy to clean and is fairly durable. Vinyl flooring stands up well to heavy foot traffic. It is comfortable under foot and reduces noise, which can be important for owners with kids or pets. It is also easy to install and maintain.
The biggest advantage of marble floor tile is that it can instantly elevate the appearance of a space, giving it a regal bearing that is hard to imitate. At the same time marble is available in multiple colors, and even in stunning multicolor mixes, providing flexible options for a variety of decorative schemes. Tiles can also be cut to rectangles, and triangles of varying sizes, in order to create complex mosaic piece installations. Marble is very expensive.
Tile flooring has several benefits:
Ceramic Water Resistance: Glazed ceramic flooring tiles have a protective layer that rests over the material, making them impervious to water and stain penetration. They are also naturally resistant to the ravages of high humidity conditions. These properties make them ideal for use in moist environments such as bathrooms or kitchens.

Durable Ceramic Tile: Ceramic flooring is extremely tough and the tiles are difficult to crack. A quality installation can last for 10 – 20 years and longer if well maintained. If a single tile does crack due to a severe impact, the process of replacing that tile is relatively simple.

Maintenance: Ceramic flooring is fairly easy to care for. Dirt, stains, and liquids all rest on the surface, allowing you to easily wipe or mop them away. Regular maintenance just consists of sweeping or vacuuming with a soft brush attachment to keep the floor free of dirt and loose debris. If set in stains do occur you can use most heavy duty cleaners without having to worry about damaging the material.
Benefits of Carpet:
Appearance: Carpeting adds to the décor by using color, patterns, and pile heights. The carpeting can create the image you want in your home or business.
Style: With the hundreds of patterns, cuts, and colors, there are literally thousands of possibilities to "fulfill" the style statement.
Insulation: Carpet can help save energy as it is an important contributor to the insulation of the indoor environment. Carpet insulates floors as it provides a  psychological feeling of warmth.
Feel: Try curling up in front of the fireplace on a hard surface floor. Carpet feels good, soft, and easier on the feet. It also gives a "softer" feel to the home.  
Acoustics: Several studies find that carpets absorb sound and carpets with padding further enhance this ability.
Safety: Invariably, slip-and-fall accidents occur on hard surface floors, not carpeted floors.  
Cost savings: According to the IICRC, carpet usually costs less over time than hard surface flooring to purchase, clean, and maintain.*
Health: Carpet traps allergens, dust, and other contaminants, holding them until they can be properly removed.
Easier to maintain: Carpeting is less labor intensive to clean and maintain than hard surface flooring and, because of this and as mentioned, can cost less to maintain, as well.
Sustainable: New technologies have been introduced allowing old carpet to be recycled into new carpet or other products; according to one manufacturer's study, of 121 million pounds of worn carpet collected, 85 percent was recycled into new carpet, eliminating the need for acquiring raw materials.
Electrical:
We often have clients wishing to add extra lighting in their homes. We provide the services of a licensed electrician to ensure that any electrical work is done within code. Whether you wish to put in pot lighting, track lighting, chandeliers, sconces, under counter lighting we will let you know what options you can have given what your electric circuitry will tolerate.
Plumbing:
Often with renovations you need the service of a licensed plumber to move plumbing or replace existing plumbing.
Structural:
When clients are renovating an older home they often want to remove walls to create a more open floor plan. In some cases with a load bearing wall, a support beam needs to be added in order to remove the wall. In some cases a support beam will not be required as the wall isn't load bearing.
Paint:
We paint walls, ceilings, doors, door frames, baseboards and mouldings. We also can scrape popcorn ceilings and repait them to a smooth and more modern finish.